All About Current Account Basics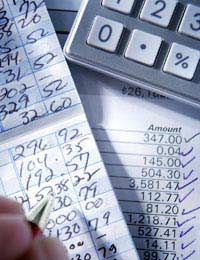 A current account is the most basic form of banking, and has become a necessity for the vast majority of citizens of the UK. This is probably the route through which you will receive your salary, and is therefore one of the most fundamental components of consumer finance.
Making a Deposit
Essentially a current account allows you to leave money with your bank, normally for an indefinite period. It is generally understood that, as the account holder, you retain the rights to the money you have deposited. In reality, however, this is not how the system works. Rather, when you 'make a deposit' you are giving your bank that sum of money, and that cash therefore becomes their asset. In return, they have a legal responsibility to give you an equivalent sum of money as a credit on your current account balance. In this way, your current account does not actually contain any money - rather, its balance is a measure of your bank's financial liability, or their responsibility to give you back as much money as you have given them.
Managing Your Money
If you have a current account, you will have access to a number of methods which will enable you to move the balance of your account (which, for simplicity's sake, we will think of as your money). Most institutions will offer a debit or cash card with your current account. If you have a debit card you will be able to use it to make cash-less purchases - rather than handing over coins or notes, your bank authorises the shopkeeper to withdraw funds from your account electronically. A debit card will only be usable if you have a sufficient balance on your account to make the purchase. In this way, you can only spend money you have. A cash card is different, in that it enables you only to make withdrawals from an automated teller machine, or ATM. This is best thought of as an electronic alternative to carrying out physical, 'over-the-counter' transactions.
The Technological Revolution
In fact, traditional face-to-face transactions are rapidly becoming a thing of the past. The rapid growth of the internet has meant that an increasing number of consumers are now carrying out most of their banking tasks without ever entering a branch. Almost every financial institution will now offer internet banking with a current account, which enables the account holder to view their balance, make payments, open new accounts and arrange standing orders. Similarly, telephone banking has grown in popularity, allowing customers to perform similar tasks over the phone.
Your current account is also likely to come with a cheque book. Although the popularity of this method of payment has waned in recent years, they can still be a useful tool. A cheque can basically be thought of as a slightly more advanced form of the IOU. When you write a cheque, you promise to pay the recipient a certain amount of money. The holder of the cheque then bears the responsibility of cashing it in - that is, transferring the asset which the cheque represents to their own bank, in exchange for an equivalent credit to their own balance. Before the bank makes the credit, however, they first make contact with the institution with which the writer of the cheque holds their account. They will ensure that the writer has sufficient funds to pay the outstanding balance. This is known as 'clearing'. If the balance of the first account is not large enough to make good the promise represented by the cheque, then it will 'bounce' - that is, it will be returned to the writer who will have to make alternative arrangements to pay.
Current accounts in the UK are generally free if you use only their basic functions. However, there will be charges for non-standard facilities such as making withdrawals abroad, or requesting high-speed payments through systems such as CHAPS. When considering a current account, therefore, you should look at which services you are likely to use regularly, and choose accordingly.
You might also like...