Bankruptcy and the Alternatives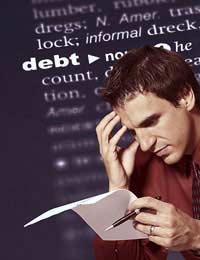 The number of individuals filing for bankruptcy in the UK has sky-rocketed over the last decade. The increasing availability of credit and the banks' penchant for lending consumers sums which they simply can't pay back has meant that many debtors have been forced into corners from which there may seem to be no way out. If you are in this situation you may well be considering drastic options.
Bankruptcy
Bankruptcy is, indeed, a drastic option. This is a legal device designed for those who are incapable of paying their creditors. An individual can file (or 'petition') for bankruptcy, or one or all of their creditors can appeal for bankruptcy proceedings to begin against an individual, but the former is the far more common course of action.
Essentially, a bankruptcy order means that the individual in question is absolved of their responsibility to pay back their debts, which seems like a very attractive option. However, the downsides are manifold and serious. Primarily, in return for the writing off of your debts, you must give up some or all of your assets, with some exceptions such as tools if you are a tradesman. These go to your creditors in order for them to recover some of their money.
Furthermore, although rules state that a bankruptcy term will rarely last longer than 12 months, the damage done to an individual's credit rating is severe; bankrupts often find it virtually impossible to get credit from 'standard' lenders, and instead have to resort to expensive products offered to those with 'sub-prime' credit histories.
Individual Voluntary Agreements
There are alternatives to bankruptcy, however. Individual Voluntary Agreements, as constituted in law in 1986, have become increasingly popular in recent years. These are formal agreements which are drawn up by a debtor and a professional insolvency advisor, and which are then presented to the individual's creditors. IVAs are only applicable for unsecured debts; you would not, for example, be able to apply for an IVA if you couldn't pay off your mortgage.
An IVA means that the debtor can pay back what they owe over a longer period of time and, if the agreement is accepted by the creditor, there will be no interest or charges payable over the term of the agreement, which is normally 5 years. Furthermore, the creditor will stop contacting the individual during this term, which is particularly attractive for those who have felt hounded by pushy lenders.IVAs are not without their downsides, however. They will still have a devastating effect on your credit score, and they can be stressful for those involved - although not as stressful as bankruptcy. It is possible to apply for an IVA after having already filed for bankruptcy, but this means that the bankruptcy must then be annulled; this can be a long process, and so an IVA should always be the first of the two options to be considered.
In many circumstances, however, neither bankruptcy nor an IVA is the only option. You should remember that, if your creditor seizes your assets they will simply auction them off and will therefore make very little money from them. As a result they stand little chance of recouping their money, and so bankruptcy is not a particularly appetising option for them either.
A far better first step, therefore, is to speak directly to your creditors about your situation. In many cases you will be able to negotiate a payment plan which is acceptable to both of you, while avoiding any formal legal proceedings.
You might also like...