When All Else Fails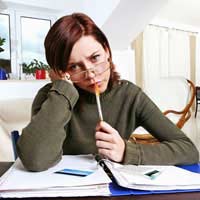 There is, of course, nothing wrong with debt per se. Even governments borrow money, so there should be no shame involved for those who need some extra cash. Problems arise, however, as a result of bad debt - debt which cannot be repaid.
If you have fallen behind in your payments and are being subjected to constant hassle from your creditors, you are likely to be looking for any possible way out. There have been recent stories of debtors driven to suicide by harassment at the hands of lenders and, while this is extreme, it is illustrative of the crises that bad debt can cause.
Obvious Answer
Bankruptcy is often seen as the obvious answer to such problems; once a bankruptcy order has been discharged, the majority of your debts will be written off. However, petitioning to have yourself declared bankrupt means living with stringent, long-term financial constraints.
The most immediate effect of bankruptcy is the risk to your assets. If you own your house then this could be sold by your trustee in order to recoup some of the money needed to pay your creditors. If you jointly own a property, this can also be sold in order that your share of the equity can be freed up. This is the main consideration for those who are thinking of filing for bankruptcy.
Future Effects
Your credit rating will also plummet as a result of bankruptcy. You will find it nigh on impossible to get credit from any standard lender, and will therefore have to pay the extraordinarily high interest rates associated with companies who specialise in offering loans to those with sub-prime credit scores. Similarly, you will find it very difficult to start your own business as you are legally prevented from assuming any role concerned with management of a company. It will also be virtually impossible to get business finance as a bankrupt.
Alternatives
There are alternatives to bankruptcy. Many insolvency practitioners will suggest that an Individual Voluntary Arrangement, or IVA, is a better solution. An IVA is a repayment plan drawn up by you and a practitioner, and presented to your creditors. They will then decide whether or not to accept the IVA. These only apply, however, to unsecured debts.
The court may suggest that you take out an IVA once you have petitioned for bankruptcy. This is a much less public, less stressful way of dealing with your debt problem, but you will almost certainly end up paying more than if you were to be declared bankrupt.
If you are convinced that bankruptcy is the right answer, you need to petition to your nearest county court with bankruptcy jurisdiction. You will then be required to fill in a Statement of Affairs, which will involve giving a substantial amount of information about your financial affairs. You will also be required to pay a fee and deposit, currently totalling £450. If, however, your debts total less than £20,000, and you have at least £2,000 in available assets, the court may refer you to an insolvency practitioner for IVA proceedings.
You might also like...