Advice On Using Debt Consolidation To Get Out Of Debt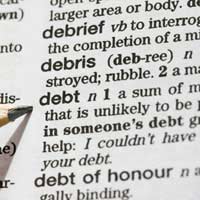 In recent times debt consolidation has been marketed as a panacea for any financial problems. It is common to see television adverts for companies offering to write off up to 75% of your debts, with seemingly little or no work on your part. It is easy to be sucked in by such advertisements, particularly if you are in their target market - those who are already in difficulties, and may well be desperate for a quick fix.
The Consolidation Process
However, debt consolidation is not quite as simple as this. It presents immense benefits for some consumers, but it is certainly not the universal solution to everyone's problems. The process begins by taking out a loan with a company who specialise in consolidation. This loan will be of exactly the same value as the combined totals of all of the debts you wish to consolidate. Using this new capital your existing loans will be closed, meaning that you will have only one loan to pay off.
The benefits of debt consolidation are manifold. Firstly, your loans will be more convenient to service as you will be paying only one monthly repayment. This is often the primary reason for consolidating as, as unlikely as it seems, it is easy for numerous (often similar) bills to become confusing. Similarly, financial planning becomes considerably easier if you know exactly how much is going out every month.
Many consolidation companies also boast of the lower monthly payments you could achieve through taking advantage of the process. It is certainly the case that you are likely to be paying out less each month in repayments. However, you must make a cost-benefit analysis in this situation - your lower monthly payments may make paying off your loan easier in the short term. However, it also means that you will be making repayments for a longer period and will, therefore, ultimately be paying back a considerably larger sum than if you had carried on with larger monthly payments. This is likely to be the case even if you take advantage of the lower interest rates offered by many lenders.
Secured Loan
These more favourable rates are, in themselves, worthy of caution. A consolidated loan is secured; that is, it is guaranteed against an asset in your position. This is normally your house. If you fail to keep up repayments, your creditor will take possession of the asset and sell it in order to get back their money. As a result, secured loans are seen to be a lower risk proposition by lenders, and this will be reflected by a lower rate of interest. However, you should consider whether or not your situation is severe enough to justify the risk of losing your home.
The final factor to consider is that of Early Repayment Charges, or ERCs. These are financial penalties to which you may be subject if you choose to close your existing loans early. These are designed to recoup some of the creditors' projected earnings, which will have been lost as you will no longer be paying interest on their loans. These charges can be considerable, and may well render consolidation unnecessary. This is particularly the case if you are close to paying off your loans anyway. If you are in this situation consolidation is unlikely to be the best option, as it will extend the period of repayment and therefore take you backwards rather than forward.
Alternatives
It is worth remembering that there are alternatives to consolidation. If you have a good repayment history, then you may not even have to change lenders. Rather, it may be possible for you to renegotiate your loans with your existing creditors in order to secure as good an interest rate or repayment plan as you would get if you consolidated. This would save you both the inconvenience of the consolidation process and the charges you may incur through early repayment.
The final, perhaps most important thing to remember, is that there is nothing in the consolidation process which you cannot do yourself. Many companies will try to persuade you that it is difficult and costly, and that you should employ them to do it for you. This is completely untrue - if you are prepared to do some research, there is no reason why you can't consolidate yourself, for absolutely no cost.
You might also like...