Work Exchange Sites: Too Good to Be True?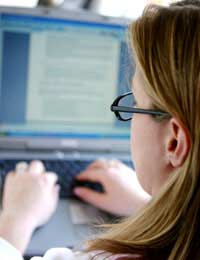 The internet has made it remarkably easy for people to work from home. Many firms have begun to offer their employees telecommuting options, meaning that workers can log on to company systems from the comfort of their front room. But the same technology has also been adopted by self-employed individuals, many of whom require no more than a computer and an internet connection to do their work.
As these working patterns have developed, so too have so-called 'work exchange' sites offering freelancers the chance to bid on jobs posted by those who need work doing. Many freelancers frequent these sites looking for jobs – but how do they really work, and can you actually make a living on them?
'Like an eBay for jobs'
First of all, how do work exchange sites operate? Most run along the same lines; a firm or individual will post details of a job that needs completing, along with a rough guide to the amount they wish to pay. Freelancers can then 'bid' on the job, explaining how they are qualified to complete the work and at what price they are willing to do so. The client chooses a winning bid, the work is completed, and payment is made – often through the site itself.
You can think of work exchange sites as something like an eBay for jobs. You will be competing against other freelancers for every engagement, and you will have to show why you are the best person for the job.
Piece work
Frequently, though, the client will simply pick the freelancer that submits the lowest bid – but still expect top quality work. As a result, it is easy to find yourself basically doing very poorly paid piece work.
That said, it is possible to find good engagements from reputable, properly-paying clients. When you do, though, you will have to fight against a vast number of other freelancers, many of whom will have better 'feedback' on the sites – simply because they have done lots of cheap work in the past.
If you are unlucky you will also have to contend with clients that do not pay promptly, or fail to pay at all. If you are worried about this, you should consider only using sites that hold client payments in escrow from the time that an engagement is arranged. This will help to ensure that a client does not take your work and then fail to answer emails when it comes to payment.
Supplement your income
As you can see, work exchange sites are not without their drawbacks. Very few people manage to make a full-time occupation out of freelancing on these sites – and, of course, the work on offer is limited to things like writing, translating and web development.
But for all their faults, work exchange sites do have their uses. If you are looking for a relatively simple way to supplement your income and you would prefer to work for yourself, you may well find something suitable on these sites. But make sure that you choose your clients carefully, and use a reputable payment service in order to be sure of a smooth transaction.
You might also like...