Getting the Best Credit Card Rate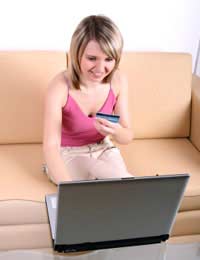 Getting a good credit card rate is something of a mystery to many people. Letters of 'pre-selection' for credit land on doormats across the country every day, but once an application has been made the rate offered is almost always laughably high. Similarly, even as base rates have fallen, the cost of a credit card from the average high street bank has continued to rise.
Of course, we would all prefer not to be in debt at all. But if you do need a credit card, how can you ensure that you are getting the best possible rate?
Credit scoring
Your credit rating is perhaps the most important factor affecting the rate that you will be offered. Lenders will consider a number of factors when calculating a suitable rate, including your past credit history (for example whether you have previously missed payments on other loans), age, employment status, and your existing outstanding loans.
Generally speaking, those that lenders perceive to be a risk will be penalised with higher rates. So, you can improve the rates you are offered by ensuring that your payments are always made on time, that you are not frequently overdrawn, and so on.
Of course, this is a fairly long-term solution, and one that applies mainly to those with less-than-perfect credit histories. So what about those with a good credit rating?
Shop around
The majority of Brits stick with the same bank for all of their financial needs throughout their life – current accounts, mortgages, loans, the lot. While this might be more convenient, it means that you are unlikely to be getting the best deals.
Online comparison sites make it very easy to identify the best rates on offer. Try using these sites before making an application in order to find where you are most likely to get a good deal. Many will also give a rough indication of the credit history that each lender will be looking for if they are to grant the headline rate offered.
Space applications
Every time you make an application for credit, the lender will search your record. This will be marked on your credit history, and will be visible to other lenders. A high number of searches within a short period of time will make you a less attractive proposition to lenders, as it will appear that you have been turned down by others.
So, you can also help to ensure you get the best rate by spacing out your credit applications. Only apply if you are sure that you wish to accept the deal, and avoid making more than a couple of applications within the space of a few months.
Lenders are not obliged to tell you the reasoning behind any of their decisions and, as such, securing a good rate is something of a guessing game. Furthermore, different lenders will have different criteria against which they judge an application. But, by making yourself as attractive a business prospect as you possibly can, you stand a good chance of securing the best possible credit card rate.
You might also like...