How Can I Get a Loan During the Credit Crunch?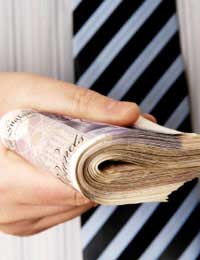 The onset of the latest 'credit crunch' has significantly reduced the availability of credit. Getting a loan is now considerably more difficult than it was 18 months ago and, even if your application is successful, banks and other lenders are charging higher rates for the same products. However, while it would appear that credit is drying up, there are still ways to find a loan. Banks are more reticent to lend but, if you can present yourself as a 'safe bet', there are still loans to be found.
One of the most tangible effects of the credit crunch on consumers has been the spiralling cost of a loan. Those with existing debts have seen their repayments and interest rates rise and, while the Bank of England has tried to tackle the problem by reducing the base rate, this trend seems set to continue. As such, consumers are finding it more difficult to service their loans (as evidenced by the worryingly high rate of home repossessions), while those looking for a new loan have come up against new, apparently insurmountable obstacles.
Fulfilling Criteria
The first step to finding a loan during the credit crunch is to understand what banks and other lenders are looking for in a debtor. Banks haven't stopped lending altogether as it is still a profitable activity. They have, however, tightened their criteria for credit worthiness, and it is vital that you understand the requirements that you will need to fulfil. In the first instance, it is important to note the differences between secured and unsecured lending practices. If you are applying for a secured loan (that is, a loan against which you can offer an asset as security, normally your home) then you are immediately in a better position. Secured loans are, understandably, deemed to be of lower risk as the lender can simply repossess the asset in the event of default. As such, applying for a mortgage should be easier than applying for a large unsecured loan. This will depend in part, however, on the location of your home. Lenders are more reticent to offer credit to those using property in areas with rapidly falling house prices as security, as there seems to be no guarantee that the asset will hold its value.
Nursing Your Credit Report
Regardless of whether you are applying for a secured or an unsecured loan, you should examine your credit record before approaching any lenders. Any potential lender will examine this when considering your application, and you should do all you can to make it as sound as possible. If you have a poor credit history, including things like missed payments on existing loans or, in the worst cases, CCJs or bankruptcies, then you are likely to be turned down straight away. However, there are ways to repair a poor credit record. Primary amongst these is demonstrating a healthy repayment history. Some companies have recently begun offering prepaid 'credit cards'. While these do not actually give you access to credit, they will appear as a loan on your credit report and there are no eligibility checks involved in an application. Most charge a fee of around £5 per month, and if you continue to make these payments for twelve months then this will appear on your credit report as a fully cleared loan, thus making you more attractive to potential lenders.
You may be tempted to apply for credit with a lender that offers products tailored specifically to the 'sub-prime' market. While this may be a potential short term solution, you should bear in mind that you will be paying well over the odds for this privilege. Again, however, these products can be useful tools if you wish to repay your credit history; if you use them for low cost purchases such as groceries, and clear your balance immediately, then you will gradually build up a more attractive credit history.
Finally, it is important that you time your applications sensibly. Any rejections will make the next lender less likely to want to extend credit, so you should wait to apply until you are in as strong a position as possible.
You might also like...