Learning to Read the Market When Buying to Let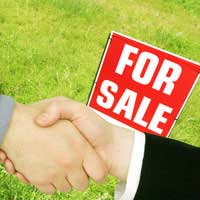 The purpose of any Buy to Let project is, presumably, to make money. In order to make money from lettings, it is necessary to minimise the purchase price of the property, and maximise the rental price; that is common sense. To achieve this, timing is essential. You will need to be able to interpret the signs offered by the housing market, and use them to make an informed decision. A good lettings agent will, of course, be able to help you with this, but it will certainly help to have a clear, basic idea of how to read the property market.
Local Information
While national property trends are important, they do not offer as specific an idea of potential performance as you can get if you look in detail at the area in which you are thinking of buying. It is generally thought to be easier to spot the signs of an area which is on the up than one which is about to slump. This could be a blessing or a curse, depending on your outlook. In either case, there are several key signs to look out for. In the first instance, you should keep a close eye on the estate agents in the area. They make their living out of the property market, and so you should do your best to use the information they can inadvertently offer you. If you see a sudden upsurge in the number of agents, or, indeed, more aggressive advertising campaigns, you can be confident that the agents themselves think that the area represents a good investment. If this is the case, competition between companies is often fierce, and so another tell-tale sign is the lowering of agency fees: look out for special offers.
Other key signs to look out for involve the property in the area. A process of 'regeneration' generally means that prices will rise, so if you can see major new developments starting around you then you could have good reason to be confident. These new developments, which are often triggered by an influx of creative professionals to an area, are normally followed by the emergence of various well-known chains of restaurant and coffee shop.
Downturns
The signs of a market about to slump are more difficult to spot. Often, the first hint of an oncoming fall in prices is a general stagnation of the area. The rate at which new businesses are appearing will fall, and eventually stop altogether. This period is generally accompanied by a lack of decisive action on the part of property owners, as they are often unwilling to 'cut and run', instead confident that the market will pick up again. As a result, a significant reduction in the number of properties available is another tell-tale sign of an area in which prices are about to fall.
The decision as to when to buy is difficult. Obviously, property prices are lowest during the 'slump' period, and many speculative developers have made a great deal of money as a result of buying up during this time. The recent recession is a perfect example of this phenomenon. However, this is a risky proposition, as there is no guarantee that prices will return to their previous levels. On the other hand, buying when prices are high means a cut in profits and the risk that you are jumping into a market which is about to slump. The importance of local knowledge cannot be underestimated in these circumstances; as a result, you should always seek the advice of a reputable, local agent.
You might also like...