Choosing a Credit Card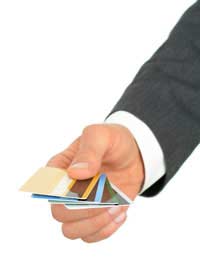 The variety of credit cards available to British consumers can be overwhelming. Considering the impact that they can have on an individual's financial well-being, the number of people who sign up for cards without any research whatsoever is staggering.
Personal Habit
The card you choose will, to a great extent, be determined by your own spending habits. If you anticipate that you will use your credit card often, then your choice will likely be different than if you were to spend only rarely on plastic. Similarly, if you have a bad credit rating then your choices will be reduced considerably. If this describes you, you may find it useful to see the guide elsewhere on this site concerning repairing your credit score.
First of all, you should look at whether or not each card has a grace period. This is the time between making a purchase with your card and being charged interest, and can be as long as 59 days. Some cards, however, do not have a grace period, and you will therefore start paying interest from the second you use your card. You really shouldn't take a card which does not give you a grace period, particularly if you are intending on paying off your balance on time every month.
Introductory Deals
Most consumers use the interest rate as the most obvious point of comparison for credit cards. However, if you are confident that you will pay your bill within the grace period every month, this is of little consequence as you will not pay any interest. If, on the other hand, you think that you will probably use the card to borrow (that is, you will not pay off your balance on time), then the interest rate will be important. You can generally expect to pay around 16% interest on overdue payments. However, you can save considerable sums of money if you shop around and take advantage of credit companies' introductory deals. Many companies are now offering 0% interest for a set period when you first open your card, which may be up to 12 months. You should read these carefully, as this only applies to balance transfers with some deals. Others, however, truly do offer 0% on purchases and so, if you are willing to change your card at the end of each introductory period, you could conceivably avoid having to pay interest at all.
You should also bear in mind that few cards offer a grace period on cash withdrawals. Different companies offer different methods of withdrawal, but you will generally either be able to take money out of an ATM or you will have to write yourself a cheque. You are likely to have to start paying interest on withdrawals immediately although, if you anticipate that you will use this facility often, it may be worth shopping around to find a card which offers a grace period for cash.
Extra Charges
It is also important to be aware of some of the 'hidden charges' associated with credit cards. Most companies will impose a penalty if you miss your minimum monthly repayments, or if you exceed your authorised credit limit. As many consumers are now realising, these charges are in fact illegal. If you find yourself a victim of these charges, try reading the guide on dealing with penalty charges elsewhere on this site. Of course, the most effective way of avoiding such penalties is by not getting into a position in which the company can charge you in the first place. It is wise, therefore, to set up a direct debit from your current account in order to ensure that you pay back at least the minimum required amount every month.
You might also like...