Negotiating a Redundancy Package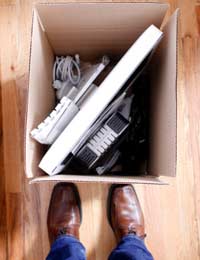 Losing your job can be a very traumatic experience. Redundancy can have a major impact on your life, particularly when it is unexpected, and many people find it a difficult process to cope with.
It is important to remember that redundancy is a process. It involves negotiation and, whatever the circumstances, you will have some rights.
If you are being laid off, it is vital that you ensure you get the very best deal possible. In addition to the payments and other rights that are granted to you by law, you should also negotiate with your employer to make absolutely sure that you are being treated as well as could be expected.
Understand your statutory rights
From the outset, it is important to understand that you have a set of statutory rights that stand regardless of any deal you make with your employer. Your statutory redundancy rights govern things like notice periods and consultation, but they also determine the minimum financial compensation you can expect to receive.
Statutory redundancy pay is calculated by looking at the length of time for which you have been employed by the business in question, the amount you earn, and your age. More information is available elsewhere in this section.
Read your contract
You may well, however, have additional rights written into your employment contract. It is common for employers to offer better redundancy pay than is guaranteed by law, for example in order to entice the best candidates when they are hiring.
Your first step, then, should be to read your contract and understand the redundancy terms contained within it. You should also check your employee handbook or similar document, as this may contain additional clauses. Remember that an employee handbook will normally be considered part of your contract of employment for legal purposes.
Don't be rushed
If you did not agree on redundancy terms in advance, your next step is to approach your employer and see what they are offering. It is common for employers to offer a chunk of money in the hope that this will be enough to satisfy the employee. Indeed, the prospect of a lump sum can seem like an enticing one, particularly if you have another job lined up.
But you should ensure that you are not rushed into agreement. Do not say 'yes' to something in a meeting. Instead, ask that the details of the proposal are written down. Then go home and consider them.
Practical help
While considering the terms of the arrangement, remember that money is not the only thing you should be thinking about. Rather, consider what practical help your employer might be able to provide. It is not uncommon for employees to ask their employer to offer assistance in finding a new job. Alternatively, you might suggest that they make a financial contribution to any retraining or professional assistance that you may require. This is particularly common in higher-level positions.
At the same time, you should remember that you will likely need assistance from the employer when it comes to applying for your next job. A good reference is a vital asset when applying for work. You should bear this in mind throughout your negotiations, and ensure that you do not burn your bridges.
Retaining items
You may well have had use of a number of items of equipment provided by your employer. The most obvious would be a company car, on which many employees find they come to rely. While considering the terms of your redundancy, you may wish to ask whether or not you would be able to buy the car in question. You may be able to acquire the vehicle at a significantly reduced price in these circumstances.
You may also have use of things like laptops and mobile phones. Again, if you would like to keep these items, ask your employer. Particularly in large organisations, it may well be that 'repatriating' the equipment would involve more time and hassle than simply letting you keep them.
What about insolvency?
Finally, if you are being laid off because your employer is folding, you should remember that you still have certain rights. If your employer is insolvent, you will be able to claim for things like wages and holiday pay from the insolvency practitioner. If there is insufficient money available to pay the claims, the remainder may be topped up by the National Insurance Fund. You should contact your local Citizens Advice Bureau if your employer is insolvent.
Redundancy can be a difficult and traumatic process. But with some hard-headed negotiation you can help to ensure that you get the best possible deal.
You might also like...
Hi, I have turned 50 now and are being made redundant, i havent claimed for over 32 years. What will i be entitled to now?
Adamski
- 5-Dec-18 @ 1:30 PM
I am being told I am losing twenty plus hours in work my letter states possible rundunciesan I have a consultation period ofthirty days would I bentitled2
micko
- 2-Feb-17 @ 3:04 PM
Stessie - Your Question:
I am 60 years old and want to give up work within the next couple of months.Should I simply give my employer notice of my intention to stop working and if so what unemployment benefits will I receiveI am not fully fit and this is partly my reason for wanting to stop working.
---
Our Response:
If you leave work voluntarily, you will not be entitled to the benefits a peron who has been made redundant. Please see Worksmart link:
here
. I hope this helps.
MoneyExpertise
- 3-Nov-15 @ 2:54 PM
I am 60 years old and want to give up work within the next couple of months.Should I simply give my employer notice of my intention to stop working and if so what unemployment benefits will I receive I am not fully fit and this is partly my reason for wanting to stop working.
Stessie
- 2-Nov-15 @ 8:22 PM