Share Dealing for Beginners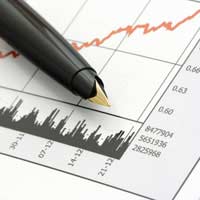 Share dealing is still one of the most popular forms of investment, the world over. It is one of the staples of the world economy, but it has also led to enormous losses for many people.
You don't have to be a professional speculator to trade in stocks and shares, however. The advent of the internet has made this an option for most private investors, many of whom now place the emphasis of their portfolio on their shares. While this is a high-risk strategy, it can also be very lucrative.
Dealing basics
Essentially, buying shares means buying a small part of a company. The company in question will be 'public'; that is, it will be listed on the stock exchange. Sometimes you will be paid a dividend on your shares, depending upon the performance of the company. These sums are usually very small, however, and most traders make their money selling their shares on for more than the price at which they bought them.
Traditionally, investors employ either a bank or a specialist company to carry out their trading for them. There are three types of accounts which you might hold with a trading company. The first of these is an execution-only account, in which the company does nothing more than carry out your instructions. This arrangement is suitable for those who know exactly what they want to buy and sell. The second arrangement is known as an advisory service, and involves just that: the trading company will advise you as to the best course of action. This advice will take into account your personal circumstances, and your advisor will work with you to ensure that your portfolio is on track. Finally, it is also possible to strike a 'discretionary' arrangement with your chosen trading company. This is usually reserved for those who have large portfolios (upwards of £50,000), and involves the trading company taking full control of your portfolio. This service is expensive, but means that the client need do absolutely nothing.
Online trading
Online trading is becoming increasingly more popular, and is the obvious choice for small investors or those just starting out. Investors nominate an online trader to buy and sell for them, and they instruct them over the internet. Execution-only accounts are the only type available online, and thus it is wise to have some idea of what you are doing before your start trading - have a look in your local library or, better still, investigate the wealth of information available on the internet.
If you trade online, your chosen trading company will probably open a 'nominee' account for you. This acts as a second bank account, into which any money made through trading will be deposited, and from which any money lost will be debited. Similarly, any documentation, such as share certificates, will generally be put in the trading company's name. 'Certificate dealing', in which the investor has all share certificates in their own name and possession, has become increasingly rare. It is a slow process as settlement of sales takes longer, and is often expensive as a result of the increased workload. As a result, few brokers now provide a certificate dealing service.
Batch dealing
If you are looking to enter the world of stocks and shares, you might be interested in 'batch dealing'. This is a service, rising in popularity over the internet, which involves all orders from customers enrolled on the service being executed simultaneously at the end of the day. The advantage of this is that, as a result of the lower workload, dealing prices are much lower. The disadvantage, however, is that you will not know how much you are buying or selling for; a peak or crash in the stock in question could have drastic effects on your profit.
Share dealing is a high-risk investment and, while it can offer impressive short- and long-term gains, it is important to be aware that it is very easy to lose a great deal of money on a single trade. If you are interested, however, make sure you shop around for the best deal on trading - this will generally not come from your high street bank.
You might also like...