Ethical Savings Accounts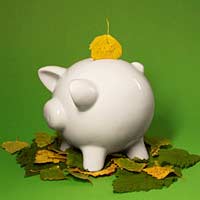 The 'ethical banking' sector has grown rapidly in the past two decades. As the general public has become increasingly aware of problems such as global warming and concern for the environment, a desire for savers' money to be invested only in ethical ventures has developed. Previously, ethical finance had been the preserve of those with sufficient capital to invest in the stock market; they could pick and choose which companies to invest in, and maintain a portfolio of investments that tallied with their own beliefs. Now, however, the so-called ethical savings accounts offer the same sort of guarantee to those who have insufficient capital to buy stocks and shares.
Ethical Policies
Ethical savings accounts are amongst the fastest-growing financial products available. While the market is dominated by three main ethical banking providers, mainstream and high-street banks are increasingly promoting savings and current accounts that only invest in ethically sound ventures. Clearly, however, the definition of 'ethically sound' is fairly subjective. As such, it is important to understand the differences between each provider's policies.
The Co-operative Bank is the most successful provider of ethical savings accounts and other ethical financial products. Their policies regarding suitable investment are constantly monitored and frequently revised in order to keep pace with the changing views of their customer base. The Co-op is unique, however, in that it operates an 'exclusive' investment regime. This means that the bank will refuse to invest in ventures involved in what it sees as unethical areas. The Co-op will not, for example, lend its savers' money to firms involved in the arms trade, or those who profit from or finance research into genetically modified foodstuffs.
Other providers operate their policies in reverse. Rather than stipulating the types of organisations that they will not invest in, they invest solely in specifically chosen ventures. Certain ethical savings account providers will, for example, choose to invest only in organisations that are concerned with such things as mitigation of climate change or deforestation.
Comparative Interest Rates
Traditionally, ethical savings accounts were poor value in comparison to their regular high-street counterparts, with ethical banking providers offering interest rates one or two percentage points below the market average. This is changing rapidly, however; interest rates on these accounts are gradually coming in line with the rest of the industry. Furthermore, the Charities Aid Foundation has recently developed a new type of ethical savings account that offers a particularly attractive return. Any private individual can open such an account and make a savings deposit. The Foundation will then use the money to make cheap loans to charitable sector organisations. If you are a higher-rate taxpayer, the available tax breaks on such an account mean that you could currently earn up to 8.33% on such an account. The interest can then be donated to a charity. These donations are tax deductible, and you can also use Gift Aid to increase the amount the charity receives.
While interest rates on these accounts begin to rise again, you should think carefully before opening an ethical savings account. If your savings are your main source of income then you might find it necessary to open a traditional savings account in order to maximise the interest accrued.
You might also like...