Minimising Your Utility Bills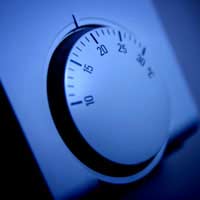 Aside from your rent or mortgage payments, utility bills are likely to be one of your largest regular expenditures. These are, of course, absolute necessities - there is no way to avoid having to pay for water, electricity, gas and so on. There are, however, several ways of effectively mitigating their cost.
These cost-saving ideas are essentially ways of saving energy, and they can be divided into two categories: long-term and short- to medium-term. If you are strapped for cash, you are likely to be more concerned with short-term savings, and so we will look at these first.
Common sense
Most ways in which you can save energy, and therefore money, are essentially common sense. For example, as clichéd as it is, ensuring that you turn off lights every time you leave a room can, in the average household, save up to £30 per year. During the evening, candles are a considerably cheaper way of lighting your house, and they also create a nice, relaxing atmosphere.
On a more practical level, you should try to stop yourself from using the tumble dryer. These are some of the most energy inefficient appliances imaginable, particularly when it is perfectly possible to dry clothes outside during the warmer months, or over radiators when it is cold and they are on anyway. In fact, during these colder times, you can also make considerable savings by thinking about your heating. The average household can save up to around £80 per year, simply by reducing the level of their thermostat by 1.5 degrees. You are unlikely to notice the difference in temperature, but the drop in your heating bill may well be a nice surprise.
Long-term savings
There are also myriad opportunities to make long-term energy savings around the house. Fitting all of your lights with energy-saving bulbs means a fairly considerable initial outlay, but you will reap the rewards in the future. Similarly, replacing a dripping faucet or shower head can save up to £300 in water bills during the course of its useful life.
If you are able to afford the initial costs, you may wish to consider replacing some of your appliances. All new white goods such as dishwashers and washing machines now come marked with their relative energy efficiencies. Of course, the more efficient appliances are more expensive, but throwing out your old washing machine in favour of a new, more efficient model is almost guaranteed to make you considerable long-term savings. Similarly, improving the insulation in your loft or wall cavities can reduce your winter heating costs massively - although, of course, this is only a viable option if you plan to stay in your house for some years. This is also true of solar panels; until recently, they had been almost useless as their cost destroyed any savings which might have been made. Now, however, their falling price means that you can recoup the money you would spend having them fitted within around 6 years. After that, the savings you will make are likely to be large.
Finally, you should consider shopping around for your energy suppliers as it may well be the case that you could get a better deal elsewhere.
You might also like...