I Am Making Money in the Recession: A Case Study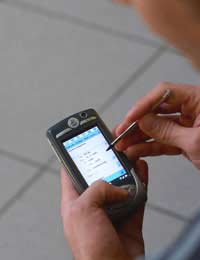 The constant stream of bad news about the state of the economy, along with rapidly rising unemployment figures, has led many to believe that entrepreneurship is a lost cause in the short term. Many people think that starting a business during such a severe downturn would be mad, particularly when established businesses are making such significant losses.
In reality, though, a recession can often be the best time to start a business. The cost of goods and services has been pushed down by a general belt-tightening amongst existing companies and, as a result, the economic barriers for start-ups are at historically low levels. Furthermore, many of those that have been made redundant were previously working in well-paid jobs from which they have received fairly substantial redundancy payouts. As such, many people have a bit of cash in their pocket and want to become their own boss. What better way is there of making sure that you don't get laid off again?
Case Study
This case study concerns a man who was recently made redundant. He was working in London digital media company until his employer began cutting staff. His job involved creating digital marketing strategies for a variety of companies. "I had a creative job that I love," he said. "I was sure that there must be a way of holding onto it even during a recession."
This man noticed that, even though media companies were making significant redundancies, their clients still needed the services that they provide. "The recession has certainly affected marketing budgets," he said, "but the fact of the matter is that companies still need to make their products known. They are just looking for cheaper ways of doing it."
His employer had made cuts because their clients were making cuts of their own. So he decided to try to offer the services that he had been providing through his employer, directly to clients. He registered a company, set up in his spare room, and began contacting companies that he knew had terminated their contracts with his previous employer.
"I got a registered address in London to make the company look more respectable. They forward all my post onto me, and I use the internet for all my phone calls. As far as my clients know, I have a London office."
Low Overheads
He found, inevitably, that these companies still wanted the services but they could not afford to pay as much as they had done previously. But with no overheads the man was able to start offering slightly scaled–down versions of the services he had been employed to provide. Having begun with the personal contacts he had from his previous job he has now begun approaching other companies directly, offering a considerably more affordable package of services.
Clearly, not everyone is in the same position; the man in question was lucky to have transferable skills and to work in an industry that allowed him to set up on his own. But, regardless of your area of expertise, the principle remains the same. It is still possible to make money during a recession, and this one is no difference. Companies and individuals will continue to need products and services, but they are unwilling to spend as much money to get them. If you can keep your overheads down while providing something for which there is perpetual demand, there is no reason why you can't also make money during the downturn.
You might also like...