Should I Buy or Rent?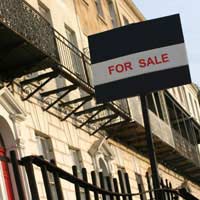 In the Leaders' Debates prior to the 2010 General Election, Gordon Brown said that he wishes to create an "owner-occupier majority" in the UK. This aspiration seems to have been adopted by politicians across the board. But there is still much debate concerning the relative merits and drawbacks of home ownership. There has been considerable publicity given to the housing market in recent years, a concern which has directly affected a great number of Britons. Even after these debates, however, many people are still unclear as to whether they should rent or buy their house.
There are a number of major considerations to take into account when attempting to make this decision. Your final choice will almost certainly be governed by your own personal circumstances, but there are also certain factors which are out of your control. The most major of these is the ever-fluctuating property market. This has been on the rise for several years, and many people are simply financially incapable of buying property as a result of skyrocketing prices. The majority of people who rent do so for the simple reason that they cannot afford to buy; all other factors are, by and large, meaningless if you fit into this category. It is, of course, unlikely that you will have the capital available to buy a house outright. Instead, you will probably be forced to take out a mortgage in order to finance your purchase. A mortgage is essentially a secured loan - that is, a loan which is guaranteed against an asset, which is, in the case of a mortgage, your home. The amount that you can borrow is dependent upon your credit history and your income.
You should remember that there will be stamp duty and other fees to pay, such as surveying costs, which your loan may not pay for. Similarly, it is now very unlikely that your lender will give you a mortgage which covers the entire value of your property, meaning that you will have to plug the deficit out of your own capital.
A mortgage is, of course, a hefty financial commitment. If you do not keep making repayments then your home can be repossessed by your lender. If your financial circumstances are likely to change, therefore, a mortgage may be too high a risk.Mortgages can, however, have their benefits. If the market value of your home continues to rise, then in a few years time you will probably be able to remortgage. This essentially means either changing your mortgage lender or renegotiating with your existing lender, in order to secure better terms. These may be a longer or shorter repayment period, or a more favourable rate of interest. Of most interest to many people, however, is equity release. This means that, as a result of remortgaging, you can release a proportion of the value of your home which you have already paid off through repayments, as cash. If your house gains value, you could therefore acquire yourself a fairly considerable lump sum. Similarly, if the need ever arose for you to take out another large loan, the only way that this would be possible is by securing it against your house. If you do not own property, therefore, loans above a certain value are probably out of your reach.
Renting also has both positive and negative factors to consider, depending upon your financial situation. One of the major positives is that you avoid the financial responsibility of a mortgage. You will, of course, still have to pay rent, but you will not be tied down to repayments. It is normally possible to extricate yourself from your tenancy within a maximum of a year but, if you own your home, mortgage debts are likely to carry on into your retirement. Furthermore, the fluctuations of the property market are of little concern to those who rent.
However, the negative results of renting may be just as long-term as those associated with buying. If you are renting, the money you are paying your landlord every month is lost - it is 'dead money'. There is no way that this cash will rise in value, and it is not working for you after you have paid it out. If you are paying off a loan on a house, however, you are making a long-term investment. If the value of your property increases, you will see a return on your money if you choose to sell up. Those who rent, on the other hand, are spending rather than investing, and may therefore find that their long-term costs are considerably higher than those incurred through mortgage repayments.
In conclusion, therefore, there are both positive and negative factors associated with both buying property and renting. Your final decision, however, will probably be made for you as a result of your own individual financial situation.
You might also like...