Mortgage Options When You Have Adverse Credit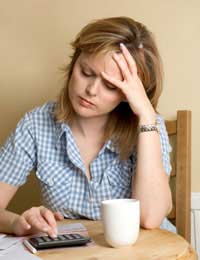 The number of people in the UK with adverse credit history is growing at an extraordinary rate. There are many reasons why your credit score may suffer, and, for many people, this may have been unavoidable. In particular, default notices, bankruptcies or County Court Judgements can have a devastating effect on your borrowing power.
In the past, those with adverse credit (also euphemistically known as sub-prime or non-conforming) have found it very difficult to get finance. This is particularly the case for large loans such as mortgages. However, as the number of people in this situation grows, so too does the market for financial services catering for them. As a result, it has never been easier to get a mortgage with an adverse credit rating than it is today.
Credit Repair
That said, however, if you are in this situation your first step should probably be to attempt to improve your credit score. In the first instance, you should write to one of the big credit agencies (either Experian or Equifax) and request a copy of your rating. It may be that there are errors on it, which you should rectify with the organisation in question. There are also other key ways that you can make small but significant improvements to your score: ensure that you are on the electoral role, to begin with. Similarly, although this may seem ridiculous, you might consider taking out another credit card. Capital One currently offer a card specifically designed for those with bad credit. Make only small purchases on it, and ensure that you pay it off on time, and your score will gradually improve.
Even having taken this action, however, you will almost certainly be left with sub-prime status. There are several key factors to remember about mortgages for those with adverse credit. Primarily, you should note that you will be seen as a high-risk proposition for any lender. Given that a significant proportion of those who default on debts do so again, mortgage lenders will give special consideration to your application. This will mean that your financial history will be picked over, and you will have to demonstrate that you are able to pay to a far greater degree than those with good credit scores. Furthermore, you can expect the interest rate on any mortgage you are offered to be high, as a reflection of your perceived high-risk status. You may be offered a deal, however, whereby your rate will fall after around three years, assuming that you keep up repayments.
High Street Lenders
There are a large number of companies specialising in adverse credit loans. These companies, however, do not always offer the best deals. Both Halifax and Abbey National offer good mortgages to those with poor credit scores, and there are plans for other high street lenders to follow suit. While these organisations do not traditionally offer the best borrowing terms, you may find them to be more flexible when it comes to renegotiating your loan.
You should also remember that your credit score may change. If, for example, in five years time you find yourself with an average rating, then it will certainly be worth either renegotiating or remortgaging. Do not be convinced by your lender that you have to stick with them forever - mortgage borrowers in the UK change their lender on average once every seven years.
As with any mortgage, you should remember that defaulting on your loan may well result in the loss of your home. However, no lender wants to see this happen, as, even after repossession, they are still likely to lose money. If you feel capable of taking on this responsibility, though, you should be able to find a mortgage with relative ease.
You might also like...