What is Piece Work?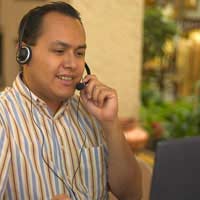 Traditionally, 'working from home' has often been associated with menial tasks such as envelope stuffing or addressing. You need only look through your local paper to see countless classified ads offering home-based income for doing apparently very easy work.
History
So-called 'piece work' is when workers are paid per unit that they produce. This form of employment began before the Industrial Revolution, when the automation of jobs such as sewing and the assembly of items were not yet widespread. Payment of this kind is actually a form of performance related pay; the faster you work, the better you are recompensed.
In reality, there is very little 'piece work' of this kind to be had today. It is simply uneconomical to employ 100 people to stuff 100,000 envelopes, when it is possible to buy machinery that will do the same job at a rate of 120,000 per hour. Adverts seeking homeworkers to carry out tasks like this should, therefore, normally be avoided.
There are still, however, some opportunities to be found. There are several trade directories which list mailing houses across the country. These organisations still employ individuals to perform tasks such as envelope stuffing or addressing, but you should remember that you probably won't be able to do this from home. Furthermore, as the work is popular, there is likely to be a waiting list.
Telecommuting
Perhaps the modern-day equivalent of piece work is telecommuting. This new phenomenon is similar to traditional employment, in that it generally requires individuals to sign a permanent contract with an employer. However, telecommuting means that you do not carry out your work from an office; rather, you use the internet and telephone to work from home. This form of work is becoming increasingly popular as more and more people begin to act on the feeling that they should not have to commute to the office every day. Just as many people, however, are put off by the idea that you could feel isolated, or fail to motivate yourself to work. While this would certainly be the case in some instances, the growing popularity of telecommuting is testament to the fact that it is perfectly possible to overcome these disadvantages.
If you are keen on working from home, another possibility is to capitalise on a skill or talent that you have. There is a wealth of information (and, indeed, work) to be found on the internet. Indeed, you may consider combining your work with the internet itself; jobs such as home-based technical support are growing in popularity for those who have good knowledge of computers.
As with any job in which you have no face-to-face contact with your employer, you should always be on the look-out in order to ensure that you avoid scams. You may find it useful to read the article on this topic elsewhere in this section.
You might also like...