Freelance Opportunities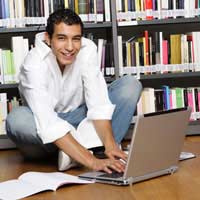 Many people would do almost anything to be able to use their skills in order that they could work for themselves. Freelance employment essentially means selling your skills to a number of different customers, rather than being exclusively employed by one party. In this way 'freelancers' work on short-term contracts, or on a job-by-job basis, rather than in a full-time capacity.
The Good and the Bad
There are both advantages and disadvantages to working as a freelancer. Of course, the advantages are very enticing - you are able to work for yourself, more than likely from home. You really can 'be your own boss', deciding which jobs you will take on and negotiating your own contracts. If you thrive on personal responsibility and are able to organise yourself effectively, then freelancing may well be for you. This does not describe everybody, though; there are many people who would find it difficult to motivate themselves to work each morning. Similarly, by its very definition freelancing is an unpredictable science. There may be times when you have more work than you can physically complete, but there will equally be periods in which you have no work at all. This can be particularly difficult if you have regular financial commitments such as a mortgage to fulfil.
If you think you would like to give freelancing a go, however, there are myriad opportunities to do so on the internet. The web has opened up the world of freelance work, enabling skilled workers to connect far more easily with potential employers. A huge number of resources are now available, both for freelancers and for employers who wish to out-source work. The sheer number of resources available, however, can make it difficult to sift through the ephemera in order to find something of substance.
Looking for Work
Reputable companies often post advertisements in places like Craigslist in order to find individuals to carry out work that they cannot do in-house. There are also a good number of sites which help to match freelancers with employers. Perhaps the best way of thinking of these is as being similar to eBay; employers post details of jobs that they need doing, and freelancers make 'bids', briefly outlining how they would carry out the work and how much it would cost. Some of the best in this field are Elance, Scriptlance and Guru.
It is always necessary to be careful when selling your skills online; a lack of face-to-face contact, coupled with the fact that you may well be dealing with someone on the other side of the world, means that the possibility of being scammed is high. It is fairly easy, however, to spot the nefarious individuals. Avoid anyone who refuses to pay by Escrow. This system is very useful, as it requires that the employer deposit the payment into an account before the freelancer delivers the work, acting as a guarantee for the employee. The payment is then released when the employer is satisfied with what has been delivered. All that is required in order to keep yourself safe when freelancing is basic common sense - if you have this, and a skill to sell, you are already on the road to success!
You might also like...